Bruges Triennial

DREAM BIG takes you for a stroll at the Bruges triennial 2018. Held once every three years, this artistic route, with surprising installations by celebrated artists and architects, is spread right across the city centre. Bruges as a fluid city, open and committed, a motor of social, cultural and political change. Bruges Triennial 2018 seeks to stimulate interaction. A liquid city, quite literally surrounded by water.
This year, Bruges triennal explores new ways of using the city space and stirs us with its commitment to ecology.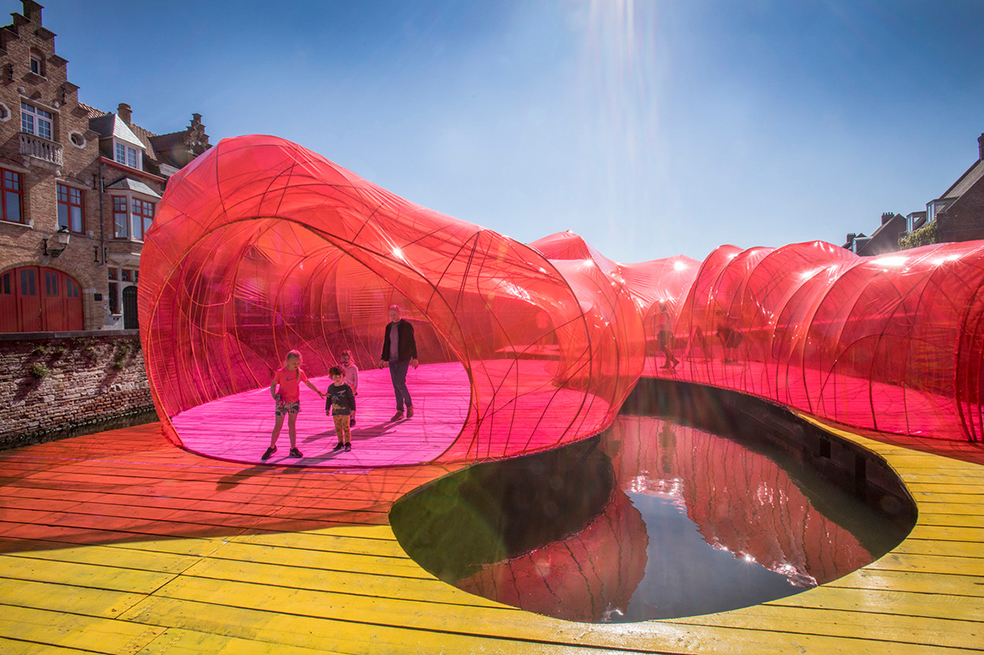 SELGASCANO PAVILION Coupure
Meet, enjoy and get enchanted by the colourful pavilion of the Spanish architects selgascano, a new sunny meeting place on the water. This installation astonishingly catches your sight by its bold color and organic structure. A paradise for familly & friends to meet up, play and relax..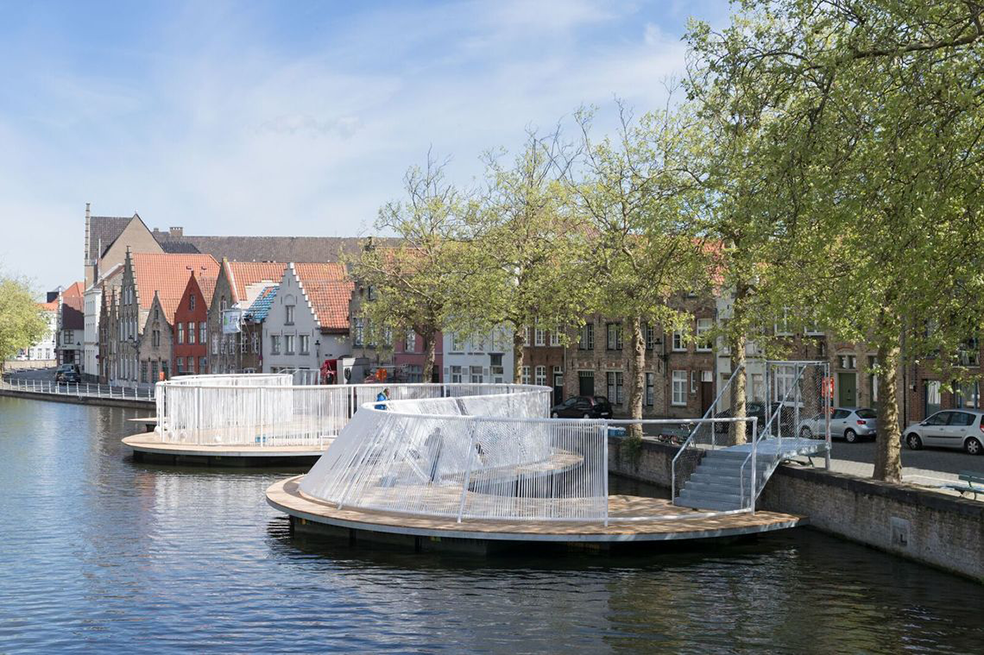 OBBA – the floating island
OBBA adds a new dimension to architecture, pushes her boundaries and makes room for a new walk, right on the water! Nest in the environment and experience the city from a whole new perspective, giving room for life ! Citizen really enjoy walking by, resting and using their own creativity to transform this place.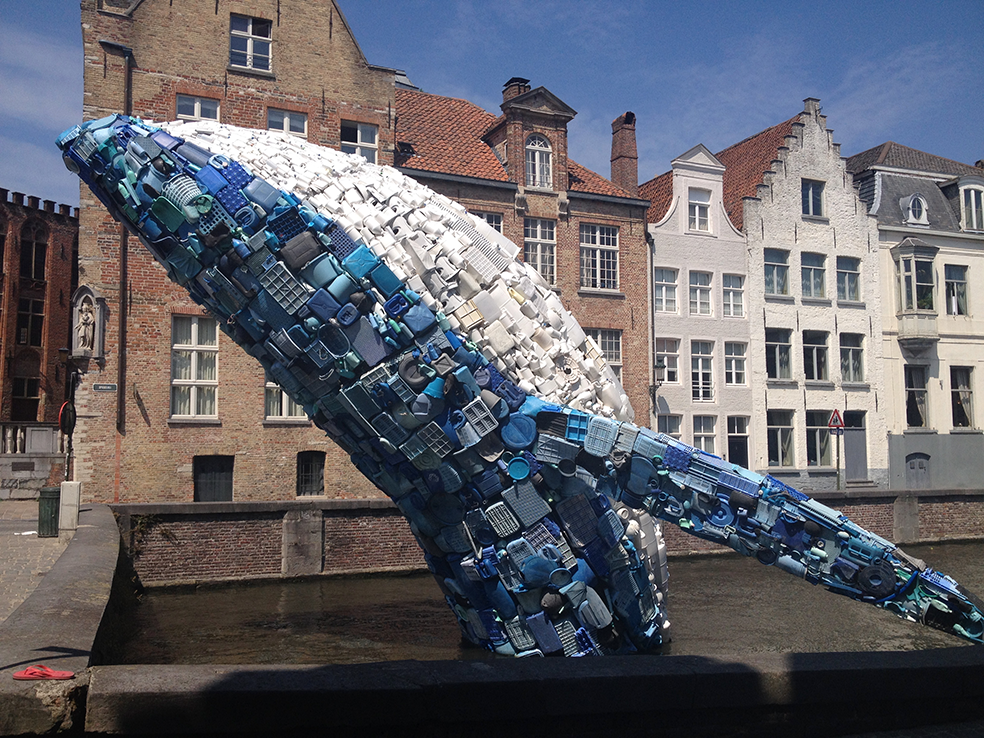 STUDIOKCA (USA), SKYSCRAPER (THE BRUGES WHALE)
The statue of Jan Van Eyck is confronted with a blue whale, a gigantic sculpture. it is more than just a representation of a whale : built from waste material, recovered from the famous « plastic soup » threatening our life on earth. STUDIOKCA wants to draw our attention to the problem of pollution, which concerns us all, and make us realize that everyone can act on it in our daily life.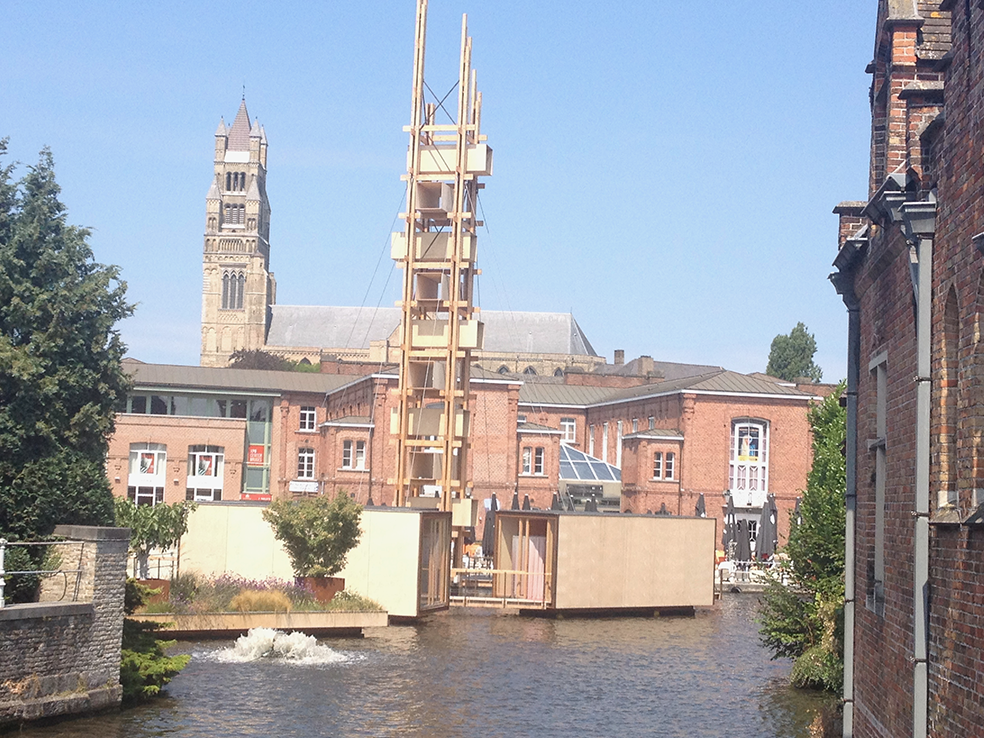 PETER VAN DRIESSCHE, ATELIER4 – INFINITI 23
How are we going to be able to live and work if the sea level continues to rise and whole areas will be flooded? Experience a new form of urbanity on the water. Peter Van Driessche create a vertical structure holding living units ; place to live, to work, to share… Exhibiting facts and figures about the dangers of keeping consuming the way we do, considering alternatives and seeking for engagement.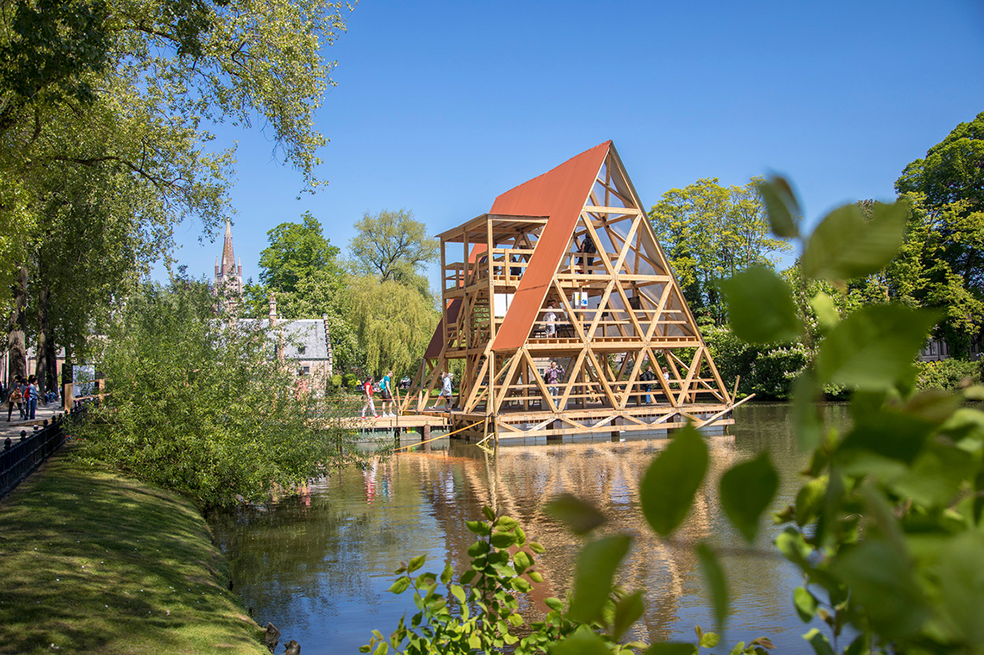 NLÉ — KUNLÉ ADEYEMI (NG-NL), MFS III – MINNE FLOATING SCHOOL
In 2016 NLÉ won the Silver Lion for his Floating School in Venice. This time he refined the installation creating a floating classroom looking out over of one of Bruges' finest parks.
it is not only a mobile building structure strong enough to withstand floods or violent storms, but also a source of inspiration that invites us to find new solutions in the field of renewable energies and lands gained by the waters.
Brugges triennial 2018 makes room to reflect on dangers of climate change and provide us with a glimpse of solutions that we will have to foresee. It invites us to become engaged visitors.